Home

/

Face

/

CREME AQUA VITAL SACHET 5ML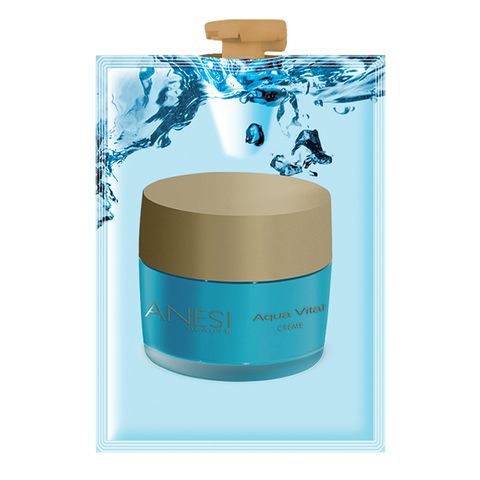 CREME AQUA VITAL SACHET 5ML
Description
Description
Cosmeceutical cream that provides an intensive hydration in three dimensions, satiating the skin's thirst from skin cells within to the surface layers. Its formula includes 3D Hydra APS and Celldetox® complex that strengthens the cellular detoxification process for a facial glow full of luminosity and radiancy.

FUNCTIONS
Deeply hydrates the skin from three dimensions (upper, lower layers and cells).
Promotes the removal mechanism of cellular metabolic waste.
Stimulates oxygenation of tissues, improving cellular respiration.
Smoothens and refines skin texture.
Regenerates to repair and restore the elasticity while strengthening tissues.

COMPONENTS /ACTIONS
3D Hydra APS: Last generation active for a deep moisturizing of the skin. Is based in the polarized water properties, capable of penetrate into the deepest layers of the skin, providing a 3 dimension hydratation.
Celldetox®: Natural active with detoxify properties. Boost the cellular metabolic waste system, improving the skin texture and appearance, more even, bright, and radiant.
Jojoba Oil: Improves flexibility and is deeply absorbed.
Wheat Germ Extract: Potent antioxidant thanks to the vitamin E
Hydroxan CH: Effective moisturizing complex that ensures the physiological regulation of water flow. Contains:
- Chitin: emollient and soothing effect that has the ability to form a protective film regulating transcutaneous water evaporation.
- Hyaluronic acid: This substance is found in connective tissue and is the main component of the extracellular matrix. Excellent moisturizer that acts as a protective film preventing water evaporation.
- Vitamin B5: Stimulates the metabolism of the corneocyte. Extraordinary skin regenerator.
- Hygroscopic Substances: Effective action on the physiological regulation of water flow.
Biodyne TRF: Rich in amino-acids, vitamins and mineral salts. Acts as an efficient moisturizing and oxygenating ingredient that renews, regenerates, rejuvenates, refreshes and smoothens the skin. It boosts elastin production and collagen synthesis to tone the skin.
Hidroxiprolisilane C: Active ingredient, especially rich in Vitamin C and amino-acids, which hydrates and diminishes the ageing effects on the skin.
Oxylastil: Soy derivative that initiates cellular respiration. Induces the absorption of oxygen by the mitochondria so it can produce more energetic substances, essential for cellular activity.
DSH CN: Bio-technological mixture between Organic silicol and Hyaluronic acid with a great moisturizing, regenerating and restructuring action.
Pentavitin: Moisturizing agent that brings back skin elasticity.
Sesame Oil: Rich in essential fatty acids, basic to maintain the tissues integrity with emollient properties.Isotonic Complex: Based on Chondrus Crispus Extract (red algae) contains:- Carrageenan: Moisturizer that binds water in the epidermis. Forms a resistive film when combined with skin proteins.- Vitamins (C-B1-B2-B5-PP) and Minerals: Revitalize and energize the skin, providing an extremely smooth and prolonged hydration, in harmony with the ecosystem of the dermis.

TEXTURE
Cream