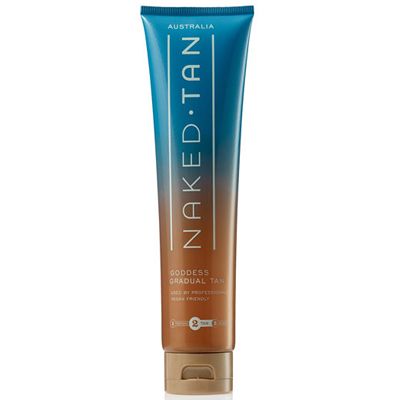 GODDESS GRADUAL TAN 150ml Naked Tan
Description
Description
Naked Tan?s Exquisite Goddess Gradual Tan is a gradual tan that offers a natural glow. Pefect for prolonging your tan or giving you a gradual colour after each application.

Great for sensitive skins, Goddess Gradual Tan can be applied daily until desired outcome is achieved Contains organic shea butter to hydrate and nourish

Be a beautiful Bronzed Goddess instantly with Naked Tan?s retail range. Contains Aloe Vera with no Parabens, No Alcohol, and is Odour-free and interacts with the skin naturally. The divine aroma of coconut and vanilla bean with a hint of bliss is inspiring.

Key Features:

- All Natural
- No Parabens
- No Alcohol
- Odour-Free
- Enriched with Aloe Vera to nourish and hydrate your skin.